We are very happy to announce that our Founder and CEO, Darren Loke, has been conferred the Pingat Bakti Masyarakat/Public Service Medal of Singapore or PBM.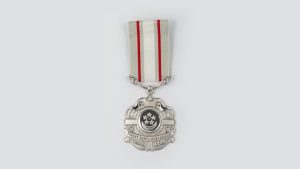 The Pingat Bakti Masyarakat (English: Public Service Medal) is a Singaporean national honour. It was instituted in 1973. The medal may be awarded to any person who has rendered commendable public service in Singapore or for his/her achievement in the field of arts and letters, sports, the sciences, business, the professions and the labour movement.
Recipients are entitled to use the post-nominal letters PBM.
Darren was awarded the medal for leading the operations of IGAKU in supporting the Singapore Ministry of Health's Home Recovery Program for Covid-19 patients.
We're incredibly proud that Darren has been awarded this medal and we collectively look forward to our continued partnership with MOH in offering our services to take pressure off of the public healthcare system.
For more information on the Singapore National Covid-19 Awards, click here
Check out our other articles here